CLASS 3 IS CURRENTLY BEING SELECTED

ANNOUNCED IN JUNE
Access to investors

Receive 1-on-1 mentorship from energy experts

Grow your network
CHECK BACK SOON TO LEARN WHO JOINS CLASS 3
HOUSTON'S CLEAN ENERGY ACCELERATOR
We help startups from around the world developing clean energy solutions achieve technical and commercial milestones that accelerate development, establish market adoption, and expand their reach by:
Growing your business and sparking investment opportunities
Expanding your network (Access to mentors, resources, investors, talent, potential customers, industry leaders, potential pilots, field trials, demonstration projects, and technical and commercial expertise)
Building or refining your brand
Perfecting your pitch
Receiving a non-dilutive company stipend
CLASS 3 IS CURRENTLY BEING SELECTED.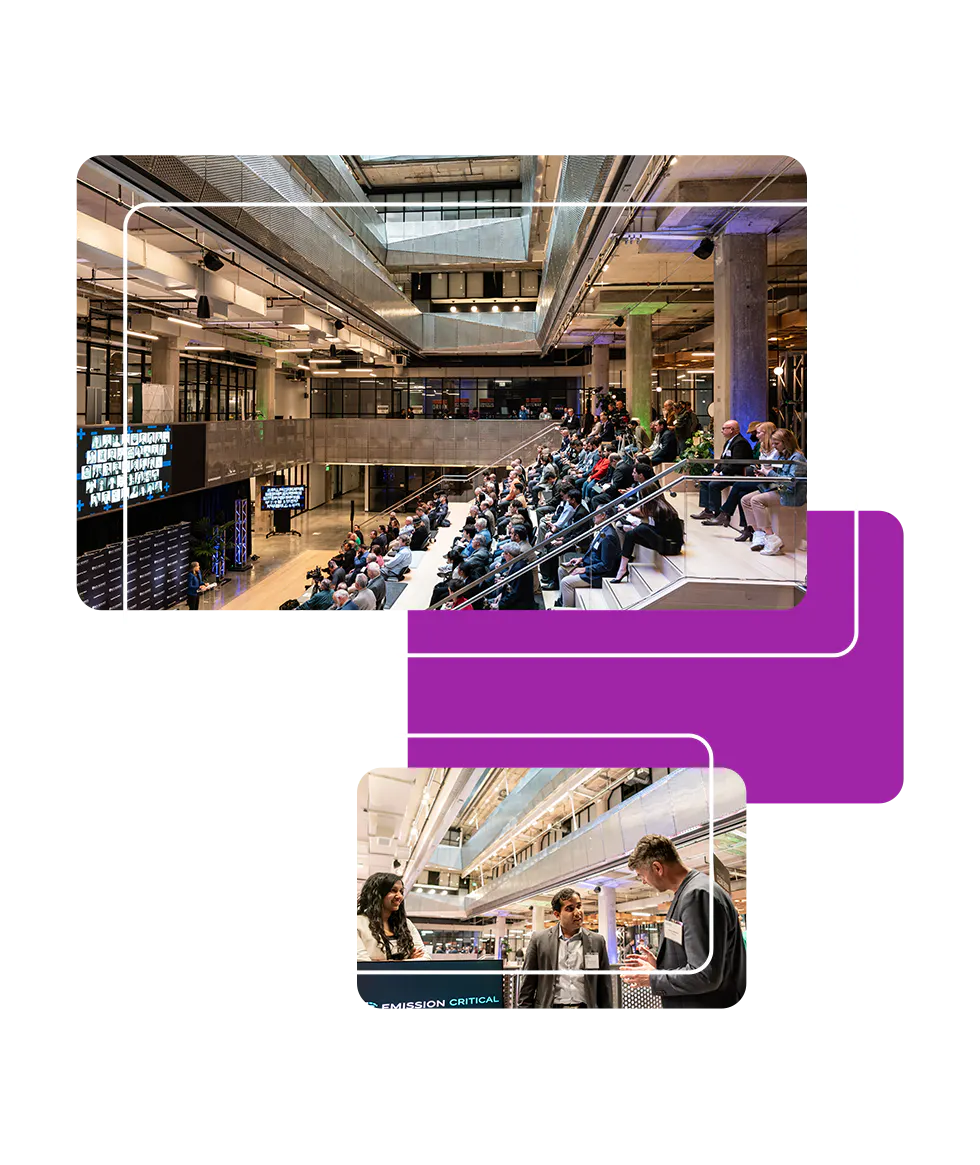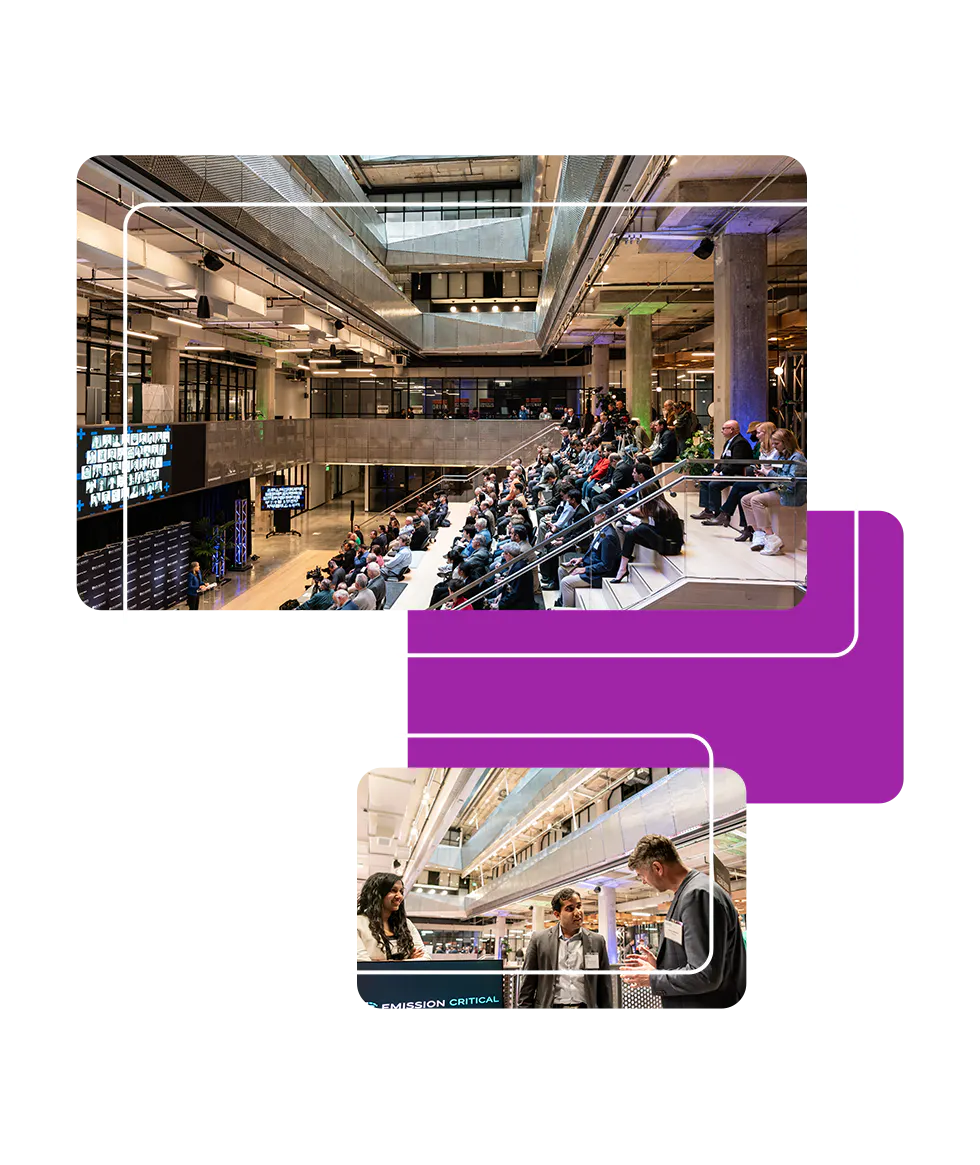 HOW AND WHEN TO APPLY:
March 15: Applications open
March 20: Virtual Info Session (Register here!) - Drop in and ask questions
April 3: Virtual Info Session (Register here!) - Drop in and ask questions
April 14: Applications close
May 29: Decision week
June 5: Invitations extended
July 25 - Sept. 22: Class 3 program dates
We welcome early-stage startups from seed stage to series A and who meet the eligibility criteria described below:
The company must be an already established, corporately formed company or entity.
The technology or innovation should serve one or more of the industry sectors described below.
Each admitted company must participate in all required programming.
At least 2 company employees must commit to participating at significant levels.
At least 1 company employee must attend these in-person activities, on these dates, and IN HOUSTON, Texas: July 25-27 (Onsite kick-off), August 22-24 (Onsite mid-point check-in), and September 19-22 (Demo Day).
At least 1 company employee must participate in all VIRTUALLY scheduled programming between July 25 - September 22
Innovation - Is the technology impactful and scalable? Does it demonstrate promise for a sustainable competitive advantage? Having a prototype is very important and will be heavily considered in the evaluation process.
Market - Is the potential market size large enough for sustained business growth, and aligned with the expectations of possible funding sources?
Strategy - Do you have quantifiable value propositions and a sound business model?
Viability - Have you demonstrated your technology or ability to raise funding?
Capability - Does the team have the ability to deliver on the identified opportunity?
Companies located outside the United States are welcome to participate with eligibility and travel costs being the same as for US companies
Participants must speak fluent English and have access to a stable internet connection (the majority of activities are done virtually)
Participants must be able to attend training activities typically scheduled during US Central Time business hours (keep in mind time zone differences)
Participants must secure their own travel authorizations; we are unable to offer assistance in obtaining or sponsoring international visas
PUT MOMENTUM BEHIND YOUR CLEAN ENERGY SOLUTION
With an active energy mentor network, we have deep expertise in the energy industry. Our accelerator serves to accelerate the energy transition by supporting early-stage startups that contribute to significant energy efficiency improvements, are developing energy derived from renewable, zero-emissions sources or are curbing the environmental impact of all types of energy production, distribution or usage, or enabling progress toward net-zero carbon. This includes:
Advanced Materials (Composites that lead to improved efficiencies or new modalities)
Biomass Energy
Carbon Management or Accounting (for example, emissions monitoring, ESG tracking, carbon tracking/measurement, carbon capture/sequestration)
Circular Economy (Reusing, repairing, refurbishing, and/or recycling existing materials and products)
Digital Technologies for Energy (Artificial intelligence, smart trading, computational chemistry tools, remote sensing/IoT)
Energy Efficiency or Storage (Carbon reduction technologies, battery technologies, fuel cells, architecture, engineering, or construction technologies or Infrastructure efficiencies)
Geothermal Energy
Hydrogen
Solar Energy
Waste Heat/Pressure to Power
Wave Energy
Wind Energy
FREQUENTLY ASKED QUESTIONS
Nine weeks beginning July 25 through Sept. 22, 2023
Startups that have not yet formed into a corporate entity may apply, but if accepted, must finalize the formation of their entity by June 1, 2023, before the start of the accelerator.
Yes, companies must be legally formed. U.S. entity status is not required, however, non-U.S. companies must be a recognized legal entities in their home country. 
There is no equity or financial obligation for invited companies to participate; it is a no-cost program.
We do not provide financial investment of any kind nor do we take equity, board seats, or any percentage of control.
We offer a no-strings-attached stipend to help offset costs and be used at the determination of the company.
We will favorably evaluate tech-enabled companies that have demonstrated feasibility of their technology/solution and are looking to scale or refine. On a Technology Readiness Level assessment, this would equate to Levels 3 to 7.
Up to 8-10 hours per week for 10 weeks.
We expect a full-time focus on growing your business during the program; time not spent in CEA-organized activities should be spent conducting company business
Participate (virtually) in weekly check-ins
Attend (virtually) weekly training sessions
Attend (in-person) the opening workshop, a mid-point check-in and Demo Day
Regularly meet (virtually or in-person) with mentors based on your specific needs
Participate in monthly cohort social activities
In addition to making available our network of energy corporations, investors and advisors, our training and programming better position companies for attracting customers and investors.
If your company previously applied but was not accepted, you are welcome to apply again. Having made progress since your last application speaks to the founder's resilience, commitment, and ultimate market adoption.
Based on previous applicant data, the acceptance rate is 20%.
Anticipate 30 minutes to complete the application. The application questions can previewed within the activation portal.
Phase I:  Screening - a panel of industry experts will evaluate the merits and commercial promise of each applicant company and make recommendations
Phase II:  Interviewing - companies advancing to this phase will be invited to participate in a required team interview (virtual)
Phase III:  Onboarding - accepted companies will receive an invitation roughly six weeks from the application closing date and will have one week in which to accept.
We look for balanced teams of at least two that possess a complementary range of skills. For applicants with only one participant, we may question whether the necessary time, skills, and commitment is in place to achieve the desired outcomes.
We strive to build diverse cohorts that serve multiple sectors, and do our best to avoid accepting competing companies within the same cohort. That said, there may be competing companies within the broader alumni base.
An equity-free financial stipend to help support program-related expenses
Extensive training and personalized mentorship
Access to an expansive network and exposure
Lifetime access to CEA and Rice Alliance resources
Pitch refinement and pitch deck design services
Yes, accepted companies should continue with business as usual while participating in the accelerator. This includes working towards any goal that helps advance and/or accelerate adoption. 
Lodging and ground transportation is your responsibility, but the CEA will provide a list of conveniently located lodging recommendations with favored rates, where possible.
Travel and accommodation costs are at the expense of the participating company but may be covered with the CEA-provided stipend.
FOUNDER TESTIMONIALS
"Rice offers four very distinct key benefits:
workshops from experts relating to 'how to build a business' type topics
direct mentorship and advice through the XIR
the mentorship and Rice network
a family and place to call home in Houston."
"Investors falling from the sky like rain, which is pretty fantastic. Big thanks to Rice for that happening."
"The CEA aloud us to go ahead and build our networks and get to know more people in the Houston ecosystem." Quino has raised $10.15M in funding. Hear his full testimonial on the founder community in the accelerator here.
"The course CEA put us through is FANTASTIC!!! Although we've been around the block several times with other ventures, these series of sessions have shown us how much more we still can learn and improve."
"The Rice Alliance Class 2 mentors and speakers continue to be fantastic, and incredibly helpful. The Rice and Houston energy communities could not be more supportive. A great program!"
---